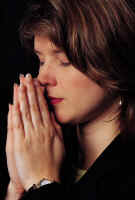 This week, I'm praying the boldest prayer I've ever prayed: that God would keep me from getting a cold.
"Wait a minute," you might ask, "What's so bold about praying for a cold?"
This particular prayer stretches my faith. On a cerebral level, I know God is bigger than cold germs. Truthfully, I don't have faith God will keep me from getting sick. And I know God knows it. That's why it's so important for me to ask for health, and to share this with you now.
This coming Sunday, I'll be attending a women's/girls' self-esteem workshop which was created by a Christian author. I'm writing a story about the author and her workshop program for a Christian magazine. While I've attended events and done interviews when I've been under the weather in the past, I know I don't do my best work when I'm ill. Plus, it's a four-hour, round-trip drive to the workshop, so it's already gonna be a taxing day. Thus, my prayer for good health.
I've explained all this to God, though he already knows my plans. I've explained it to him because I don't feel entitled to good health, even for a week. Logically, I should get sick right now because my husband's been sick for the past five days. (And I always get sick when he's sick.)
Somehow, this simple prayer becomes difficult for me. The usual questions pop into my head:
Does this matter to God?
Will he tell me, "Sorry, kid. You live in a fallen world, and you gotta tough it out like the rest of my children"?
Am I asking for something foolish?
If I do get sick, does that mean God didn't care about my prayer?
These doubts make me want to withdraw the prayer. Thing is, I've never hesitated to pray for emotional healing, comfort, or peace. God has given these things to me every time I've asked. He's given me wisdom, helped to resolve conflict, and offered confidence every time I've prayed for those things.
I know in my head and heart he's Lord over my mind. I haven't acknowledged him as Lord over my body yet.
Above all, that's why I need to pray this little prayer. Turns out, it may not be so little after all.
To ponder:
1) Are some prayers harder for you to pray?
2) How has God's answer to your past prayers affected the way you pray?
3) Is it easier to pray for others or for yourself? Why?