Did you ever wonder why God gave you a pudgy stomach? A crooked smile? Ears that stick out?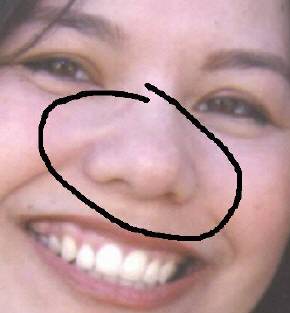 When I was a freshman in high school, a kid named Quincy Jones made me wonder about my nose. He was our class clown, and he loved to mock-flirt with me to entertain our classmates. One day, he loudly announced, "Holly, you'd be really beautiful ... if it wasn't for your nose."
Huh? What was wrong with my nose? At 14, I had unusually good self-esteem--I believed I was downright cute--but Quincy's comment shook me. Was I, in reality, freakishly flawed?
By the following day, I'd decided Quincy was a goofball. I understood he'd picked something about me that wasn't up to par with American beauty standards. My nose is short and wide. (Perhaps not so ironically, Quincy's nose is very short and very wide.) And I decided to accept the funny little bump in the middle of my face. My Sunday school teacher had taught me I was "fearfully and wonderfully made, knit together by God inside my mother's womb" (
Psalm 139:13-15
). I wasn't quite sure what all those fancy words meant, but I did understand the point: God made me this way for a specific purpose.
"Just accept your looks"--that sounds simple, doesn't it? I know it really isn't. For years, I grumbled at God for making me short. Back in my school days, I hated always being the smallest kid in class. As a pint-sized adult, I hated being treated like a child. I once was asked to show my hall pass at an elementary school--I was 22 at the time. I yelled at God, "I want to play basketball! I want to be a supermodel! I want to reach the top shelf at the supermarket! Why'd you give me these stupid, stubby legs?"
Years later, I met Teeriffic, a gal who's even shorter than me. We commiserated about our size, and I immediately realized she's been worse off than me. People still pat her on the head, touch her face, and call her "sweetie." She was riding in a car with a male buddy once, and when they stopped, he opened her door, picked her up into the air, then set her feet on the ground. (Apparently, he thought her legs were too small to reach from the car to the ground.)
But unlike me, Teeriffic's long seen how God uses her petite figure. As a writer, Teeriffic's childlike presence is an immeasurable help. Others perceive her as sweet and approachable. Interviewees open up to her quickly and share openly because she's not intimidating. She's also able to quickly bond with children, which is important when she volunteers as a tutor and youth worker. Kids seem to be quite comfortable with an adult who's close to their size, she says.

I often wonder how people must feel when their appearance suddenly changes due to illness or an accident. Jon Tester, a Montana farmer, lost the three middle fingers of his left hand in a meat grinder when he was 9. "I couldn't play the saxophone and had to learn the trumpet, and I took a lot of crap from my schoolmates," he told Time magazine. Jon became a public-school music teacher at one point, and currently serves as the president of Montana's state senate. Oddly enough, Jon's childhood accident gave him "the most distinctive hand wave in American politics, a thumb-and-pinkie hook-'em-horns waggle," says Time writer Joe Klein.


This reminded me of Hawaii surfer Bethany Hamilton, who lost her left arm in a shark attack three years ago. Now 16, the Christian teen is still surfing. She's shared her story on MTV, Oprah, and 20/20, and has appeared in numerous magazines including Time, People, Teen Vogue, and YM. She shares the story of the attack and how her faith sustained her in the bestselling book, Soul Surfer.

These stories verify for me that God has his reasons for the way we look. Would Jon Tester still be a successful politician if he hadn't lost his fingers? Would Bethany Hamilton still be a teen role model if she hadn't been attacked by a shark? Sure. Yet seeing their tenacity inspires us and helps us persevere.
"I can't change it," Bethany told the Detroit Free Press about the shark attack. "That was God's plan, and I'm going to go with it."
Honestly, I still wish I was a little bit taller. Yet I'm beginning to realize God really does use my "flaws." As a multi-ethnic kid growing up in the 70s, I hated looking different and feeling like I never fit in. But now, I know God has used my mixed ethnicity to help me understand multiple perspectives. He's used my ethnically blended looks to help me relate and talk to people of many different ethnicities. I believe God's used my small size--and even my stubby, childlike nose--to make me more approachable, and perhaps less threatening when I share my faith. I repeatedly hear others describe me as "diplomatic" and a "bridge-builder," and I know my appearance plays a big part.
Most of us wouldn't choose hammers, screwdrivers, saws, or drill bits to decorate the walls of our homes. But we need these seemingly unattractive tools to get work done. In God's hands, even the least favorite things about ourselves may be the most useful for building his kingdom. Maybe my stubby nose is just what he needs.
To ponder:
1) Which of your physical features do you dislike? Why? Why do you think God gave you that particular feature?
2) Think about a time a stranger approached you asking for help (eg. a child lost in a department store, a traveler asking for directions, a previously unknown neighbor asking for a cup of sugar). Why do you think you were approached?
3) Think about something you'd like to change about yourself. If it changed, how might it negatively impact your life? (For example, if Teeriffic suddenly grew a foot taller, perhaps children wouldn't approach her as easily as they do now.)
More:
Aren't You Listening, God?